Winter Bike League 2014
News Flash: The Colbert ride WILL BE SATURDAY (12-20). Ride start delayed 1 hour to 11 a.m. Spread da word.
WBL # 2 (12-13-14)
Team Mission Source Juniors March to Maysville
The thundering herd of over 130 Zealots was led out of town and towards Maysville on Week 2 in the WBL by a powerful cadre of juniors from Team Mission Source, all future Grand Tour winners, presidents of Fortune 500 companies, and eventual world leaders. The Team Mission Source riders—Owen Braunecker, Michael Garrison, Thomas Cross, Reece Latham, Willem Kaiser, and the powerful Waine twins to name a few—lead the grupetto straight down Milledge Avenue and out of town via Prince Avenue to the Access Road and the Great Wide Open that lay beyond. Those walking on the side of the road and those in cars driving past could only stare at the young luminaries in awe and wonderment.
And not to be outdone, on the wheels of the Team Mission Source juniors were the young guys and gals from Frazier Cycling. David Heath (14), Megan Heath (16), Harrison Nguy (14) and Jonathon Spathelf (18) were directly behind the Mission Source riders licking their chops and waiting on their chance to lead this wild and untamed gaggle of pedal-fools into the dark and dusky regions at the far edges of the map. And when the Frazier lads did come to the fore and start ripping down the road, this time, it was the rest of the pack that shook their heads in awe and wonderment. It was World Youth Day in the WBL!
The group sailed north into the rolling hills and bosky woods of Jackson County and towards Maysville at a comfortable clip. The sun was beaming down on the pack like a beacon of love and clothes were eventually shed and pasty, unshaved white skin was exposed. It was a horrid sight. My eyes still hurt on the backside from gazing at Sean Philyaw's albescent being.
A hundred or so made it to the store stop in Maysville at Mile 35 and so far, it had been a pleasurable day of easy pedaling—the group was averaging about 18 miles per hour. But after the store stop, the pack positioned the wind at its back, put the bit between its teeth, and pushed the pedal to the metal. As the group rolled through Commerce and hit 334 and started the final push towards home, the Big O Oscar Clark and his partner in crime, Ty Shake Your Money Maker Magner, went to the front and upped the ante. Then Thomas Hit Man Brown doubled-down. With the wind at its back, the pack was cruising down the comfortable downslopes of Highway 334 and Nowhere Road between 25 and 30 miles per hour. This group was humming now.
The group completed 71 miles in 3.5 hours at an average clip of 20 miles per hour. After two rides, the group has 145 miles under its belt. Morgan Patton Brown, with the absence of Travieso, as last year's second place finisher, remains safely tucked into the Hub's Leader's Jersey. Can she hold it for the rest of the season? Her enemies are sharpening their knives. Watch ypur back.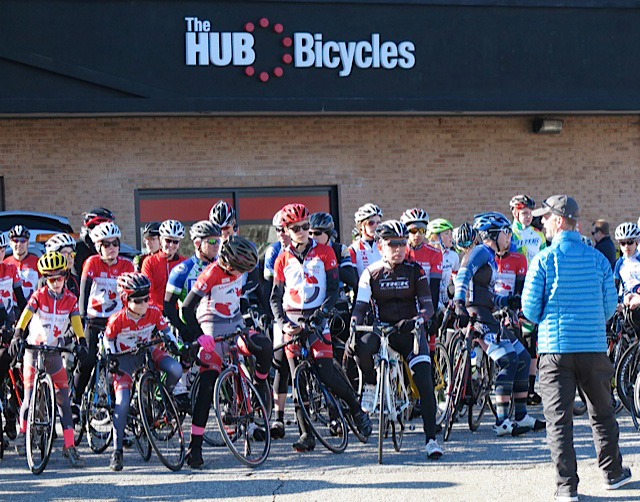 Team Mission Source Juniors ready to rumble
WINTER BIKE LEAGUE- RIDE GUIDELINES (see "read more" link below)
---
WBL 2014-15 Calendar
20 December 2014 (Ride # 3): The Colbert Classic
Time: 10 a.m.* (window open)

Length: 70 miles / 3.5 hours
When: Saturday, 20 December
Where: The Hub (5 Points / Athens) SEE PARKING OPTIONS
Exit Route: University Drive > College Station Road > Barnett Shoals > Beyond
Pee Break: @ Mile 18 (Listen for whistle)
Store Stop: Colbert / Mile 38
Intermezzo Sprints: None
Interactive Map:

http://ridewithgps.com/routes/5766739jd
Text directions: text dierctions / Now Posted
Final Sprint: None

Points: 4 // 1 per hour // must sign in.
Parking: Parking is available on streets and in lots near the Hub (see list below), but there is no WBL parking in front of the Hub. It will simply be a matter of learning the new parking locations to make this a smooth transition. Make sure to lock up and don't leave valuables in your car. Local riders, as always, ride your bikes to the start.
Parking is avilable on the white curb on surrounding residential streets beginning on Milledge Terrace, the first side road street next to the Hub (beside 5 Points Fitness) see map for the many available side streets:

http://ridewithgps.com/routes/5815781

Barrow Elementary School: Parking is available at Barrow Elementary School, about on-fourth of a mile from the Hub. From the Hub, travel north on Lumkin towards downtown and the UGA track for 1/4 mile and turn right on Pinecrest. Barrow Elementary School is on the right / see map: http://ridewithgps.com/routes/6245631
Fire Station (5 Points): There are 12 spaces available the fire station at 5 Points. These are the 12 spaces in the lot closest to Milledge Avenue, not the back lot.
Overall Leader's Jersey sponsored by the HUB, and individual rides sponsored by Atlantis Hydroponics, Porterfield Tire, Team Type 1, Ken Bike Law, Classic City Bread, Cappy's Custom Cabinets, Hamilton Ryker IT, Independent Bakery, Team Mission Source Juniors, Gruber Images, Morgan and Thomas Brown and others tba. Featuring the Team Mission Source Juniors Ladies Final Sprint Competiton ($700!) Individual Sprints sponsored by Condor Chocolates, Team Type 1, Ted's Most Bet, College Transitions, The Gear Attic and more tba! SAG Vehicle provided by Lexus South. Don't be left out in the cold, become a sponsor and earn rewards in heaven.
*2014-15 Calendar*
20 December: Colbert / 3.5 hours / 70 miles (no sprint)
http://ridewithgps.com/routes/5766739jd
27 December: Statham / 3 hours / 55 miles (no sprint)
http://ridewithgps.com/routes/6017793
1 January: The Independent Bakery Greshamville Mall-Farmington / 3 hours (Ladies Only Sprint) / $200: 5 deep ($100 - $75 - $50 - $25 - $10 // Pts: 10-8-6-4-2) http://ridewithgps.com/routes/5542436
3 January: Classic City Bread-Ken Bike Law Commerce Classic / 3.5 hours (Non Pro, 1, 2 Sprint) / $200: 3 deep
10 January: Atlantis Hydroponics Bowman: Classic / 4.5 hours (Pro Sprint) $200 winner take all!
17 January: Hamilton-Ryker IT Hard Labor Classic / 4 hours (Pro Sprint) / $200: 3 deep
24 January: Porterfield Tire Alto World Cup with the Cappy's Custom Cabinets World Famous Alto City Limits Sprint / 5.5 hours / $$$$$
31 January: Team Type 1 Classic / 4 hours / tba
7 February: The Morgan and Thomas Brown Epic / details tba
14 February: The Gruber Images 2015 Finale
---