Winter Bike League 2015
SFS 2015 Coming Soon: Stay tuned!
WBL 2015 Overall Winner: Oscar Clark
Commerce: Morgan Patton Brown
Paoli Junction: Oscar Clark
Paoli Junction: Jonathon Spathelf
Madison: Oscar Clark
Alto: Ty Magner
Hoschton: Thomas Brown
Lake Oconee: Frank Travieso
Old Wildcat Bridge: Oscar Clark
2015 Awards:
Overall Winner and MVP: Oscar Clark
The Hub Leader's Jersey Holders: Oscar Clark, Morgan Patton-Brown, Megan Heath
First Lady: Morgan Patton-Brown (2nd Overall)
Rookies of the Year: Megan Heath, Jonathon Spathelf, Harrison Nguy, Tommy Morrison
Most Stage Wins: Oscar Clark (3)
Most Time at the front: Jered Gruber, Thomas Brown
Most Consistent Finisher: Brendan Cornett
Purple Star Award / the 880 Club (made all rides): Scott Morris, David Blalock, Matt Bannick, Jason K Jones, Craig Tinsley
True Grit Award: Frank Crumley, Erik Gruenwedel, Ashley Gruber, Erin Winter.
Most Dramatic Stage Win: Oscar Clark (Old Wildcat), Thomas Brown (Hoschton)
Number of Rides: 11
Miles ridden: 880 miles
Average Miles per ride: 80 miles per ride
WBL 2015 Final Overall Standings (for complete Overall see "read more" link below)
Oscar Clark: 96 pts.
Morgan Patton-Brown: 89 pts
Brendan Cornett: 76 pts.
Ashley Gruber: 73 pts. (tie)
Thomas Brown: 73 pts. (tie)
Megan Heath: 71 pts.
Damien Dunn: 63 pts.
Andy Scarano: 58 pts
Jered Gruber: 57 pts.
Frank Travieso: 53 pts.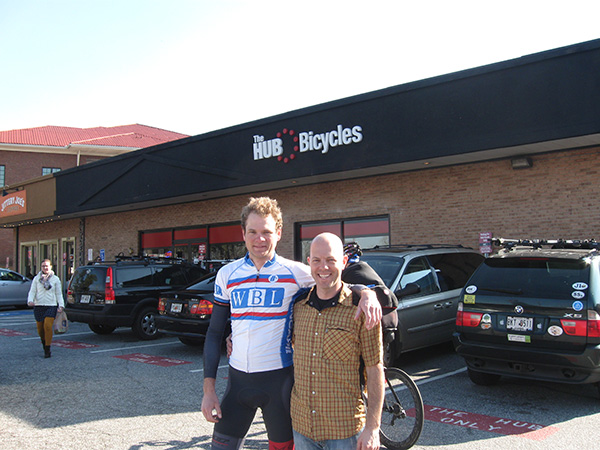 Clark and B Malloy, proprieter of the Hub.
FINAL OVERALL STANDINGS (see "read more" link below)
---
WBL 2014-15 Calendar
Special Shoutout to all our sposnsors who keep the wheels on the bus rolling:
Overall Leader's Jersey sponsored by the HUB, and individual rides sponsored by Atlantis Hydroponics, Porterfield Tire, Team Type 1, Ken Bike Law, Classic City Bread, Cappy's Custom Cabinets, Hamilton Ryker IT, Independent Bakery, Team Mission Source Juniors, Gruber Images, Morgan and Thomas Brown and others tba. Featuring the Team Mission Source Juniors Ladies Final Sprint Competiton ($700!) Individual Sprints sponsored by Condor Chocolates, Team Type 1, Pave Clothing, Ted's Most Bet, College Transitions, The Gear Attic, A Taste of Athens and more tba! SAG Vehicle provided by Lexus South. Don't be left out in the cold, become a sponsor and earn rewards in heaven.
---