Winter Bike League 2014
The Porterfield Tire Alto World Cup
(WBL # 8: 24 January 2015)
The young sprinting prodigy known as Tytus Magner, the former mayor of Asheville and present day Prime Minister of Prince Avenue, pulled off a once-in-a-lifetime feat as he not only scored an impressive Alto victory after a brutal day of pedal-banging, thus entering his name in the historical register, he also won the Alto City Limit sprint halfway in by displaying a bit of bravado—he blasted away from the front group on the last of the Triple Stairstep and soloed the last 5 miles, holding a 15 to 20 second gap all the way to the line. And you thought he was only a sprinter! Tytus is cagey that way.
When the shell-shocked and shattered group turned left onto Steep Dog Road (AC Smith Road) to begin the Final Attack, the riders already had 98 grueling miles in their poor, pitiful legs. In fact, throughout the cruel and vexing day, many riders' legs were singing the Blind Willie Blues as they tried in vain to push the pedal over one more time. Though once again the sun was shining, the day was ravaged by the wind and on the way to Alto in the first half of the day, the incessant gusts battered the pack with relentless headwinds and bruising crosswinds. And with the constant barrage of monster hills, combined with the raid-fire tempo, there was little opportunity to sit in and spin; simply staying with the herd required a rider to work like a pack mule. And for those who do survive to the end, the Alto Attack Zone is a 9 mile section of roadway that exacts a heavy toll and guarantees only the strongest will compete for the win.
So when this shaved-down front group of 70 or so hit the Final Attack Zone, many were already in survival mode. On the first hill, Steep Dog Hill—a 400 meter pitch straight up into the sky—Jered Gutcheck Gruber struck out in pursuit of gold, glory and fame. Over the top of the terrible hill, Gutcheck went clear of a strung-out group behind that was splintering into a half dozen different small packs. As Gutcheck raced for the first right hand turn onto Erastus Church Road only 1.5 miles in, he had a 5 second gap over two riders in hot pursuit behind. Thomas Hit Man Brown and Tytus Magner shot out of the first chase group of a dozen and were closing quickly on Gutcheck.
The two chasers made contact as they turned right and the three wise men quickly realized that opportunity was at hand and they fell into formation and powered away, each taking massive pulls in an effort to stay away. By the time the trio tuned left on Seagraves Mill Road, they had a 20 second advantage over a dozen chasers who still hoped to reel the three in.
But Gruber, Brown and Magner are experienced Pros and they never faltered—they continued rotating and sharing the load, each giving solid pulls to ensure the success of the break. But suddenly, as the three escape artists began the last long 600 meter hill up Seagraves to Nowhere Road and the final 3 miles, Gutcheck launched a ferocious attack—he was going for the win and he knew he didn't want to bring it down to a sprint.
But Magner continued tapping out a rapid tattoo on his pedals as he didn't panic and instead increased his cadence without shifting gears—he pulled Gutcheck back and as they took the right hand turn onto Nowhere Road, they still held a 20 second gap. But if they broke down now, they could easily be caught.
Behind, the chasers were humming but they were under the watchful gaze of the Hub Overall Leader, the Big O Oscar Clark, and he was sticking onto attacks the way butter does to hot rice. In the chase group behind still trying to close the gap to the leaders was Frank Travieso, Brendan Cornett, Emile Abraham, Sean Philyaw, Igor Rudola and Andy Scarano to name a few.
At the front, the three cycling magi still understood the significance of a 20 second gap and they didn't squander a chance at immortality. They fell back into formation on Nowhere Road and worked together like the different parts of a Singer sewing machine. Watching the three give short intense pulls and slide to the side and then drop back in at the rear was like watching skilled craftsmen perform their trade.
As the three began the last 1 mile stretch to the line, it was obvious they'd stay clear—they were still holding a 20 second gap. With 500 meters to go, Gutcheck launched another salvo with a vicious mule-kick that sent him 20 meters clear. He looked back once and threw everything into the move. With 400 meters to go, Gutcheck was 2 seconds clear.
But with 300 meters to go Tytus launched a devastating counter and he shot by Gutcheck and managed to barely gap Brown behind—he stood and stomped and grunted and managed to hold Brown off by a second as he crossed the line with a fist raised, with Gruber rolling across in third. Regardless of placings, it was a masterful ride by all three of the day's final protagonists who averaged a steady 20.5 miles per hour over the course of the 115 mile day.
In the first chase group, Traveiso stormed across in fourth, with Cornett, Clark and Abraham not far behind. Also in the first group and showing impressive form were I Rudola and Scarano.
Emile Abraham won the day for the Non Pros finishing 7th Overall with the powerful young Hincapie rider Ian Garrison not far behind. Also impressing with strong Alto showings were Willem Kaiser, Tommy Morrison and Davis Branyon.
On the Ladies side of the ledger Ashley Gruber showed amazing strength and fortitude and won the day with the perennial favorite Tina Mayola-Pic taking second. And showing stamina far beyond her 15 years, Megan Heath scored valuable points for third and combined with the points earning from winning the Crackback Hill Jam, she surged on the Leader's board and now sits only 2 points behind Oscar Clark who is now in First Place. The irrepressible 13 year old Jane Tullis also showed mind-mending strength beyond her mere 13 years with a rock solid ride. Also making significant jumps in the standings were Ty Magner and Brendan Cornett, who, along with Morgan Patton-Brown, are stil in contention for the crown. Hold onto your pants, with three to go, it's up for grabs. Things, as they say, are interesting now.
The world watches and waits.
Finish:
Ty Magner: 15 pts.
Thomas Brown: 12 pts.
Jered Gruber: 9 pts.
Frank Travieso: 6 pts.
Brendan Cornett: 3 pts.
Oscar Clark: 2 pts.
Emile Abraham: 1 pt
Attack Point: Gruber: 1 pt.
Non Pro Finish:
Emile Abraham: 9 pts.
Ian Garrison: 7 pts.
Igor Rudalev: 5 pts.
Oleg Tanovitchi: 3 pts.
Sean Philyaw: 2 pts.
Ladies Finish:
Ashley Gruber: 9 pts.
Tina Mayola-Pic: 7 pts.
Megan Heath: 5 pts.
Jane Tullis: 3 pts.
Alto City Limit Sprint:
Ty Magner: 5 pts.
Oscar Clark: 4 pts.
Brendan Cornett: 3 pts.
Jered Gruber: 2 pts.
Ryan Knapp: 1 pt.
Crackback Hill (Ladies):
Megan Heath: 5 pts.
Jane Tullis: 4 pts.
Ashley Gruber: 3 pts.
Tina Mayola-Pic: 2 pts.
Crackback Hill (Non Pro):
Emile Abraham: 5 pts.
Ian Garrison: 4 pts.
Tommy Morrison: 3 pts
Willem Kaiser: 2 pts
Davis Branyon: 1 pt.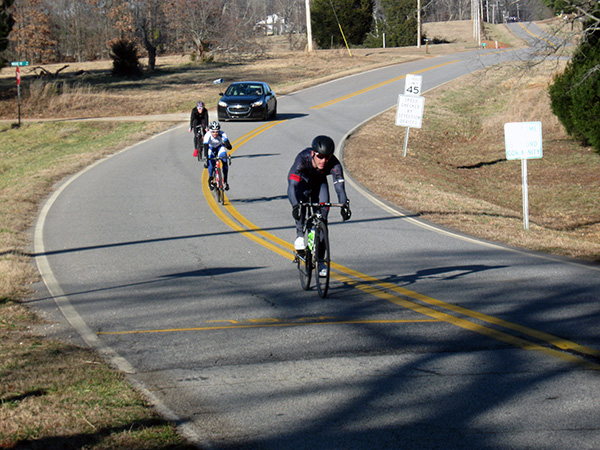 Magner takes Alto
OVERALL STANDINGS AFTER ALTO (see "read more" link below)
---
WBL 2014-15 Calendar
Saturday January 31: Pave - Brand / Team Type 1 Hoschton Classic // *Sign up to win a signed UHC cycling jersey: http://www.pavebetweenrides.com/jersey //
Pave is currently giving away a nice wheelset on the Pave website; it will run for a few more weeks – check it out: http://is.gd/kYWrB5 The Pavé crowdfunding launch will be on Feb 1 (Sunday following the WBL ride on Saturday.)
Time: 10 a.m.* (window open)

Length: 95 miles / 5 hours / 88 miles without Pink Church Loop

When: Saturday / 31 January
Where: The Hub (5 Points / Athens) SEE PARKING OPTIONS
Exit Route: N Milledge > Prince > Access Road > Whitehead > Roberts > Lavender > Tallasee

Points: 5 // 1 per hour // must sign in.

Pee Break: Mile 16
Store Stop: Mile 39 (Hoshcton)
Intermezzo Sprint # 1:

Ladies' Sprint: Hoschton City Limit (@ Mile 38): uphill then flat 500 meter run to city limit sign (store stop after sprint)
5 pts. / Sweet Pave t-shirt / Signed copy of Phil Gaimon's Book

4 pts

3 pt

2 pts.

1 pt.
Intermezzo Sprint # 2: Non Pro Sprint (@ Mile 66): S Apple Valley Hill Jam: 700-800 meter hill climb / line in road (same sprint done earlier in year):
5 pts. / signed copy of Phil Gaimon's book, Signed Pave t-shirt (Karl Reijnes)

4 pts.

3 pts.

2 pts.

1 pt.
Intermezzo Sprint # 3: Pro Sprint (Mile 73): Jeffreson Riviera Hill Jam: 500 meter hill climb
3 pts. / $25 gift certificate to Ted's Most Best

2 pts

1 pt
Intermezzo Sprint # 4: Pro Sprint (Mile 79): Pink Church / first time across line - keep going after sprint and ride the Pink Church Loop and come back around to same line and sprint for the win.
3 pts. / $25 gift certificate to Condor Chocolate

2 pts

1 pt
Final Attack Zone: @ Mile 79 (8 miles): turn righ at Alligator Pond and ride 1 mile to Pink Church. There is a Pro Sprint the first time across the line in road at the Pink Church Loop. After sprint, turn right on Cane Creek and keep going. Descend hill and go single-file through tight, twisty and fast turn at bottom. Ride to stop sign (yield to cars) and turn right on Crooked Creek. Ride to stop sign (tield to cars) and turn right on Jefferson River Road. Ride 3 miles and turn riight at Alligator Pond. Finish line is 1 mile ahead. Those who don't wish to sprint can pull over the first time across pink Church Line and wait on the final sprint to come back around - it will knock 7 miles off the total.
Pro Finish / sponsored by Team Type I
10 pts. / $100 plus da box

8 p

ts / $75

6 pts / $25

4 pts.

2 pts.

1 pt
Non Pro Finish / sponsored by Pave Brand Clothing
7 pts / $50

5 pts / $25

3 pt. / $25

2 pt

1 pt.
Ladies Finish / sponsored by Team Mission Source Juniors
7 pts / $75

5 pts / $50

3 pts. / $25

2 pts. /

all ladies who finish ride, plus ride pts.
Parking: Parking is available on streets and in lots near the Hub (see list below), but there is no WBL parking in front of the Hub. It will simply be a matter of learning the new parking locations to make this a smooth transition. Make sure to lock up and don't leave valuables in your car. Local riders, as always, ride your bikes to the start.
Parking is avilable on the white curb on surrounding residential streets beginning on Milledge Terrace, the first side road street next to the Hub (beside 5 Points Fitness) see map for the many available side streets:

http://ridewithgps.com/routes/5815781

Barrow Elementary School: Parking is available at Barrow Elementary School, about on-fourth of a mile from the Hub. From the Hub, travel north on Lumkin towards downtown and the UGA track for 1/4 mile and turn right on Pinecrest. Barrow Elementary School is on the right / see map: http://ridewithgps.com/routes/6245631
Fire Station (5 Points): There are 12 spaces available the fire station at 5 Points. These are the 12 spaces in the lot closest to Milledge Avenue, not the back lot.
Overall Leader's Jersey sponsored by the HUB, and individual rides sponsored by Atlantis Hydroponics, Porterfield Tire, Team Type 1, Ken Bike Law, Classic City Bread, Cappy's Custom Cabinets, Hamilton Ryker IT, Independent Bakery, Team Mission Source Juniors, Gruber Images, Morgan and Thomas Brown and others tba. Featuring the Team Mission Source Juniors Ladies Final Sprint Competiton ($700!) Individual Sprints sponsored by Condor Chocolates, Team Type 1, Pave Clothing, Ted's Most Bet, College Transitions, The Gear Attic and more tba! SAG Vehicle provided by Lexus South. Don't be left out in the cold, become a sponsor and earn rewards in heaven.
*2014-15 Calendar*
7 February: The Morgan and Thomas Brown Eatonton Epic / details tba
14 February: The Gruber Images 2015 Finale
---