Winter Bike League 2014
Breaking News: First Ride: 6 Dec. For the 2014-2015 the WBL with the Hub Overall Leader's Jersey is moving the start of its rides to the Hub at 5 Points in Athens due to the fact that Sunshine Cycles has moved its location. Parking will be available on the side streets in the neighborhood behind the Hub (see below and check out the WBL on facebook.)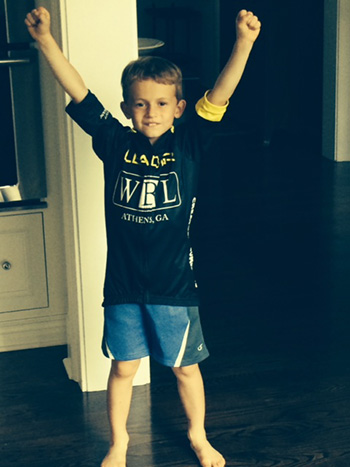 Asa Benjamin Shirey stakes his claim to the 2015 Hub Leader's Jersey.
Jump on the bandwagon, become a sponsor. All cash paid to riders! Options:
Ladies Sprint Series $500 / top lady finishers all rides
Sprint Series (8 sprints): $250
Sponsor a ride: $200

Alto City Limit Sprint: $100

Crackback Hill Jam: $100

Co-sponsor a ride: $100
Sponsor 1 sprint: $25
Parking: Parking is available on streets and in lots near the Hub (see list below), but there is no WBL parking in front of the Hub. It will simply be a matter of learning the new parking locations to make this a smooth transition. Make sure to lock up and don't leave valuables in your car. Local riders, as always, ride your bikes to the start.
Parking is avilable on the white curb on surrounding residential streets beginning on Milledge Terrace, the first side road street next to the Hub (beside 5 Points Fitness) see map for the many available side streets:

http://ridewithgps.com/routes/5815781

Barrow Elementary School: Parking is available at Barrow Elementary School, about on-fourth of a mile from the Hub. From the Hub, travel north on Lumkin towards downtown and the UGA track for 1/4 mile and turn right on Pinecrest. Barrow Elementary School is on the right / see map: http://ridewithgps.com/routes/6245631
Fire Station (5 Points): There are 12 spaces available the fire station at 5 Points. These are the 12 spaces in the lot closest to Milledge Avenue, not the back lot.
WINTER BIKE LEAGUE- RIDE GUIDELINES
The WBL hosts the best structured training rides on the planet. The WBL has its own special flavor and we specialize in long winter rides. But we are more than just a ride, we are a community, a network, and even a family, and we look out for our brothers and sisters of the road. Safety and a great training ride are two of our most important objectives. All riders can help in both regards by (1) obeying the rules of the road, and (2) riding double-file AT ALL TIMES, ESPECIALLY WHEN DEPARTING TOWN. REMEMBER: YOU RIDE THESE RIDES AT YOUR OWN RISK!
The WBL rides are not designed to drop riders, but neither do we coddle the sniveling masses. Rides are ridden at a steady tempo - not too fast, not too slow. Our goal is to ride smooth and steady, avoiding rapid accelerations and decelerations. We try and hold a steady, solid and quick tempo for the entirety of a ride (other than the Attack Zone). We typically average about 20 miles per hour, shop to shop, sometimes faster.
You should have experience riding in a pack before attempting a WBL ride. These are not the rides to learn how to ride in a pack—you will be trampled. Interactive Maps are available on the website for every ride that can be loaded into your Garmin. Text directions are also available with mile-by-mile directions. Print one and put it in ye pocket. It is up to each rider to survive and get home on his own!
---
WBL 2014-15 Calendar
First Ride: 6 Dec., 10 a.m. (window open) from the Hub (5 Points).
Overall Leader's Jersey sponsored by the HUB, and individual rides sponsored by Atlantis Hydroponics, Porterfield Tire, Team Type 1, Ken Bike Law, Classic City Bread, Cappy's Custom Cabinets, Hamilton Ryker IT, Gruber Images, Morgan and Thomas Brown and others tba.
Sprints sponsored by Condor Chocolates, Team Type 1, Ted's Most Bet, College Transitions, The Gear Attic and more tba!
Overall / The Hub: 1st: $250 + da box; 2nd: $150 plus a bag; 3rd: $100 + bag; 4th: $50 plus a bag; 5th: $25 + a bag plus more tba.
SAG Vehicle provided by Lexus South. Don't be left out in the cold, become a sponsor and earn rewards in heaven.
*2014-15 Calendar*
6 December: Good Hope / 4 hours / 74 miles (no sprint)
http://ridewithgps.com/routes/5765398
13 December: Maysville / 3.5 hours / 70 miles (no sprint)
http://ridewithgps.com/routes/5790079
20 December: Colbert / 3.5 hours / 70 miles (no sprint)
http://ridewithgps.com/routes/5766739jd
27 December: Statham / 3 hours / 55 miles (no sprint)
http://ridewithgps.com/routes/6017793
1 January: Cappy's Custom Cabinets Greshamville Mall-Farmington / 3 hours (Ladies Only Sprint) / $200: 5 deep ($100 - $75 - $50 - $25 - $10 // Pts: 10-8-6-4-2) http://ridewithgps.com/routes/5542436
3 January: Classic City Bread-Ken Bike Law Commerce Classic / 3.5 hours (Non Pro, 1, 2 Sprint) / $200: 3 deep
10 January: Atlantis Hydroponics Bowman: Classic / 4.5 hours (Pro Sprint) $200 winner take all!
17 January: Hamilton-Ryker IT Hard Labor Classic / 4 hours (Pro Sprint) / $200: 3 deep
24 January: Porterfield Tire Alto World Cup / 5.5 hours / $$$$$
31 January: Team Type 1 Classic / 4 hours / tba
7 February: The Morgan and Thomas Brown Epic / details tba
14 February: The Gruber Images 2015 Finale
---