Single File Saturdays 2015
NEW START TIME: 8 a.m
July 11: Jordan the Hemmy Heimer showed that his hemmy is firing on all cyclinders, his dual exhaust is blowing hot air, his spark plugs are washed clean and he has washed behind the ears as he stormed to his greates win in 3 years as he nailed the sprint on the We Are Lost as Hale Without a Ride Leader SFS Classic this past Saturday. Ripping across in 2nd place and also showing that hse has plucked the lint from between her toes, was Erin Boots Winter with Leave You Radli dancing across in 3rd. As SFSSSS hits the halfway mark, it's wide open!
Intermediate Sprint: None
Finish: Nowhere Road
Hemmy Heimer: 3 pts

Boots Winter: 2 pts

Leave You: 1 pt
Overall Standings for 2015 SFSSSS:
Justin Bieber: 12 pts

T Hit Man Brown: 10 pts

Showstopper: 5 pts

Hemmy: 4 pts

Metro Man: 3 pts

ah Bonsignore: 3 pts

Fat Frank: 3 pts

John Boy Bob Butler: 3 pts

Boots: 2 pts

Wattage: 2 pts

Natty D: 2 pts

Josh: 2 pts

Leave You 1 pt

Boonen: 1 pt

B Betzy: 1 pt

Wolfman: 1 pt

Bewley: 1 pt

Vinnie Deluise: 1 pt
3 hour ride: Final Sprint: 3-2-1 / Mid-ride sprint: 2-1

4 hour ride: Final Sprint: 5-3-1 / Mid ride sprint(s): 3-2-1

Looking Good Points: Awarded at the Board's discretion
SINGLE FILE SATURDAY SUMMERTIME SPRINT SERIES # 6 (8 a.m.): The Gratis 60
When: Saturday, July 18 / NEW START TIME
Where: The Hub / Jittery Joes (5 Points)
Time: 8 a.m. (window open)
Length: 60 miles / 3 hours
Exit Route: Milledge > Prince > Roberts > Tallassee
Store Stop: Mile 28 (Gratis)
Pee Break: approx. 1 hour in
Mid-ride Sprints: Mile 17: Statham City Limit : 3-2-1
Final Attack Zone: Bishop > Watkinsville: 2 mile straight run to line in road (Points: 3-2-1)
Interactive directions: http://ridewithgps.com/routes/9252330
Parking: Ride your bike down, park on a side street nearby.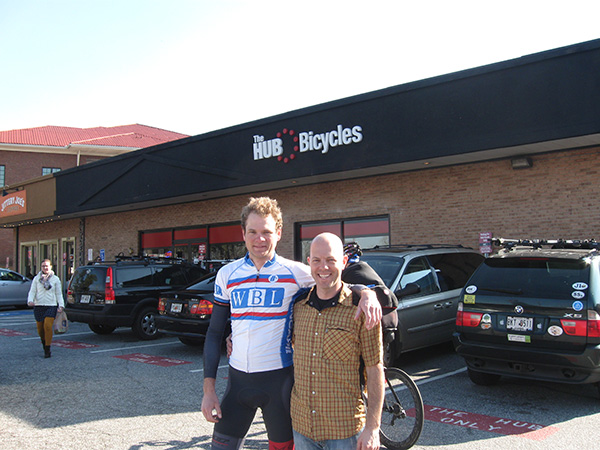 Clark and B Malloy, proprieter of the Hub.
FINAL OVERALL STANDINGS (see "read more" link below)
---
WBL 2014-15 Calendar
Special Shoutout to all our sposnsors who keep the wheels on the bus rolling:
Overall Leader's Jersey sponsored by the HUB, and individual rides sponsored by Atlantis Hydroponics, Porterfield Tire, Team Type 1, Ken Bike Law, Classic City Bread, Cappy's Custom Cabinets, Hamilton Ryker IT, Independent Bakery, Team Mission Source Juniors, Gruber Images, Morgan and Thomas Brown and others tba. Featuring the Team Mission Source Juniors Ladies Final Sprint Competiton ($700!) Individual Sprints sponsored by Condor Chocolates, Team Type 1, Pave Clothing, Ted's Most Bet, College Transitions, The Gear Attic, A Taste of Athens and more tba! SAG Vehicle provided by Lexus South. Don't be left out in the cold, become a sponsor and earn rewards in heaven.
---