Single File Saturdays 2015
May 16: CrumDawg Millionaire Cashes In!
It was another fantastic SFS as a small, but strong, group of riders headed out for a SFS that would separate the best from the rest. This would be the first SFS to include an intermediate sprint and point totals increased for the final sprint. Jason "The Bruiser" Bewley must have read about it in the local paper because he showed up 30 minutes early with his skin soaked in a combination of sunscreen and baby oil. We also saw the reemergence of Liviu Radu, otherwise known as the tyrannical vampire from Transylvania. His teeth was sharpened and Radu was clearly out for blood.
As the group made their way to the only intermediate sprint on the day, Justin from Michigan pulled like a Wolverine bound for Ann Arbor. Once the Greene County line was in sight on Colham Ferry Road, Michael Trivette was the first to jump. Like a cheetah, Bewley instinctively latched on his wheel and they were off to the races. Little did they know, however, that the tank was also along for the ride to the line. With only a handful of yards left to go, Bewley the Bruiser burst out in front as Crumley and Trivette managed to somehow tie one another at the line. Both riders were completely blown but that didn't stop either of them from giving one another a good ol' fashioned tongue lashing. This would only give fuel to the fire for the final sprint.
Once the group stopped to refuel just north of Madison, it was game on when they returned to route 83. The Transylvania vampire tried to eat the entire pack on Price Mill as he tore the legs off of everyone on the climbs. Bishop might as well have been a saint dressed as the devil because no one was happy to reach the lead in to the final attack zone. The bruiser didn't care and it was evident that the sun's rays and the heat of the day had destroyed his brain and all of his senses as he laughed out loud while pulling into the first mile. Trivette and Crumley gave a glance at each other, both flabbergasted by the fact that Bewley was setting himself up for disaster. Both knew that it wouldn't be possible for a rider to pull the entire way to the final sprint AND win the sprint! Clearly he was mad or maybe he was just a complete jackass! But the Bruiser had one more trick up his sleeve. With less than half a mile to go, he attacked! Trivette quickly got onto his wheel and Liviu and Crumley were there as well. Bewley pulled off and Trivette was forced to pull through. Less than 10 seconds later, Bewley attacked again! This time Crumley and Liviu countered and the dash for the cash was on! As Crumley sailed over the line, he raised both arms to the heavens as tears streamed down his face. It was his first win on the season and the gods smiled down upon him like never before. It was only fitting that the golden rays of the sun shined brightly as Crumley pulled on the golden fleece as the end of the afternoon. Indeed, Crumley is now your official leader of the SFS.
This week looks to have a lot of additional firepower in town as Morgan "The General" Patton Brown has already made calls to the SFS headquarters to let them know she'll be in attendance. Everyone stands armed and ready. Join us on Saturday at 9:00am for another classic edition of the SFS!
Watkinsville Sprint:
1) Frank Crumley - 5 points
2) Jason Bewley - 3 points
3) Liviu Radu - 1 point
Greene County Intermediate Sprint:
1) Jason Bewley - 3 points
2) Frank Crumley - 1.5 points (tie)
2) Michael Trivette - 1.5 points (tie)

Overall Standings for SFS Spring Classics:
1) Frank Crumley - 8.5 points
2) Damien Dunn - 6 points
2) Jason Bewley - 6 points
4) Brent Betz - 3 points
4) Jordan Heimer - 3 points
4) Brendan Cornett - 3 points
7) Rol Miller - 2 points
7) Erik Kirk - 2 points
7) Matt Whatley - 2 points
7) Liam Ainslie - 2 points
7) Austin Ulich - 2 points
12) Michael Trivette - 1.5 points
13) Fat Cappy - 1 point
13) Dean (from Boston) - 1 point
13) Kalen Scholz - 1 point
13) Eric Murphy - 1 point
13) Chris Robinson - 1 point
13) Stacy Robinson - 1 point
13) Chris Deluise - 1 point
13) Maria Carrelli - 1 point
13) Liviu Radu - 1 point

SINGLE FILE SATURDAY SPRING CLASSICS: OLD WOLDCAT BACKWARDS
When: Saturday, May 24
Where: The Hub / Jittery Joes (5 Points)
Time: 9 a.m. (window open)
Length: 70 miles / @ 3.5 hours
Exit Route: S Lumpkin > Sandford Satdium > Olympic Drive
Store Stop: Mile 42 (Danielsville)
Pee Break: approx. 1 hour in
Mid-ride Sprints: Danielsville City Limit (Mile 42)
Final Attack Zone / Winterville da back way / 2 mile straight shot / Athens City Limit sign)
Interactive directions: http://ridewithgps.com/routes/7964871
Parking: Ride your bike down, park on a side street nearby.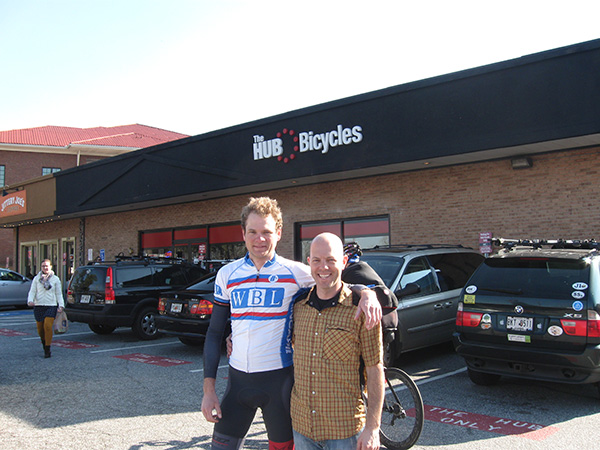 Clark and B Malloy, proprieter of the Hub.
FINAL OVERALL STANDINGS (see "read more" link below)
---
WBL 2014-15 Calendar
Special Shoutout to all our sposnsors who keep the wheels on the bus rolling:
Overall Leader's Jersey sponsored by the HUB, and individual rides sponsored by Atlantis Hydroponics, Porterfield Tire, Team Type 1, Ken Bike Law, Classic City Bread, Cappy's Custom Cabinets, Hamilton Ryker IT, Independent Bakery, Team Mission Source Juniors, Gruber Images, Morgan and Thomas Brown and others tba. Featuring the Team Mission Source Juniors Ladies Final Sprint Competiton ($700!) Individual Sprints sponsored by Condor Chocolates, Team Type 1, Pave Clothing, Ted's Most Bet, College Transitions, The Gear Attic, A Taste of Athens and more tba! SAG Vehicle provided by Lexus South. Don't be left out in the cold, become a sponsor and earn rewards in heaven.
---