Single File Saturdays 2015
NEW START TIME: 8 a.m
June 27: SFSSS rages on as Christian Metro Man Foster took his first win in 25 years as he blasted across the line like a heat seeking missile with radar lock on the Yellow Jersey. Metro Man may be back from the dead, however, because the ride was a "short" 3 hours, he was only awarded 3 points. He cussed out the leader of SFSSSS, Lean Bean Trivette, and took his toys and went home. Lean Bean promised he'd make up for it with plenty of miles still to come.
Intermediate Sprint: Dixon Hill:
Damien: 2 pts.

Wattage: 1 pts

Brian ah Bonsignore: 1 pt
Finish: Winterville
Metro Man: 3 pts

Brian ah Bonsignor: 2 pts

B Betzy: 1 pt

Cross the Covered Bridge First: Boonen: 1 pt
Overall Standings for 2015 SFSSSS:
Justin Bieber: 12 pts

T Hit Man Brown: 10 pts

Showstopper: 5 pts

Metro Man: 3 pts

ah Bonsignore: 3 pts

Fat Frank: 3 pts

John Boy Bob Butler: 3 pts

Wattage: 2 pts

Natty D: 2 pts

Josh: 2 pts

Boonen: 1 pt

B Betzy: 1 pt

Wolfman: 1 pt

Bewley: 1 pt

Hemmy: 1 pt

Vinnie Deluise: 1 pt
3 hour ride: Final Sprint: 3-2-1 / Mid-ride sprint: 2-1

4 hour ride: Final Sprint: 5-3-1 / Mid ride sprint(s): 3-2-1

Looking Good Points: Awarded at the Board's discretion
SINGLE FILE SATURDAY SUMMERTIME SPRINT SERIES # 5 (NEW START TIME: 8 a.m.): Jaffer-Son!
When: Saturday, July 4 / NEW START TIME
Where: The Hub / Jittery Joes (5 Points)
Time: 8 a.m. (window open)
Length: 60 miles / 3 hours
Exit Route: Milldege > Prince > Access Road
Store Stop: Mile 38 (Jefferson)
Pee Break: approx. 1 hour in
Mid-ride Sprints: Mile J Riviera Wall: Points: 3-2-1
Final Attack Zone: Pink Church - 1 mile uphill run - Attack Zone opens at Alligator Pond (Points: 3-2-1)
Interactive directions: http://ridewithgps.com/routes/8848789
Parking: Ride your bike down, park on a side street nearby.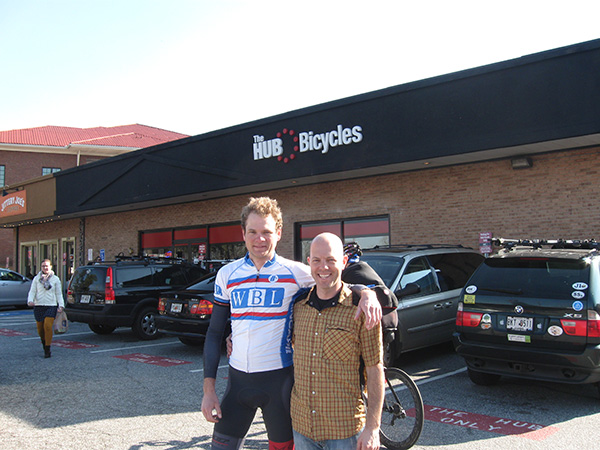 Clark and B Malloy, proprieter of the Hub.
FINAL OVERALL STANDINGS (see "read more" link below)
---
WBL 2014-15 Calendar
Special Shoutout to all our sposnsors who keep the wheels on the bus rolling:
Overall Leader's Jersey sponsored by the HUB, and individual rides sponsored by Atlantis Hydroponics, Porterfield Tire, Team Type 1, Ken Bike Law, Classic City Bread, Cappy's Custom Cabinets, Hamilton Ryker IT, Independent Bakery, Team Mission Source Juniors, Gruber Images, Morgan and Thomas Brown and others tba. Featuring the Team Mission Source Juniors Ladies Final Sprint Competiton ($700!) Individual Sprints sponsored by Condor Chocolates, Team Type 1, Pave Clothing, Ted's Most Bet, College Transitions, The Gear Attic, A Taste of Athens and more tba! SAG Vehicle provided by Lexus South. Don't be left out in the cold, become a sponsor and earn rewards in heaven.
---